Reporting indicates that the Liberian flagged MT MERCER STREET (IMO 9539585) has been attacked at approximately 152nm NE Al Duqm, Oman. Reports by UKMTO indicated an initial attack against an unnamed vessel occurring on 29 July 21 at 0700UTC, 86nm SE Al Duqm Port. An additional report was later circulated indicating a second attack at 2340UTC. Vessels were advised to avoid the area. Whilst precise details remain unclear, it is assessed that both incidents are highly likely to have involved the same vessel.
Wider reporting indicates that the initial report related to the sighting of an unmanned aerial vehicle(UAV) that is understood to have "deployed flares", which were reportedly seen falling into the water. The nature of the second attack remains unclear. However, it is understood to have resulted in an explosion onboard the vessel. At the time of publishing it is understood that two personnel were killed in the attack [UPDATE: now confirmed one UK national and one Romanian National] understood to have been a senior member of the ship's crew and the other was a member of an embarked security team.
The MT MERCER STREET is understood to have a crew of 27, comprising Romanian, Russian, Chinese, Ukrainian, Filipino, Georgian, and Indian nationals. Further reporting by UKMTO indicates that regional search and rescue authorities and coalition forces have been tasked to assist the vessel.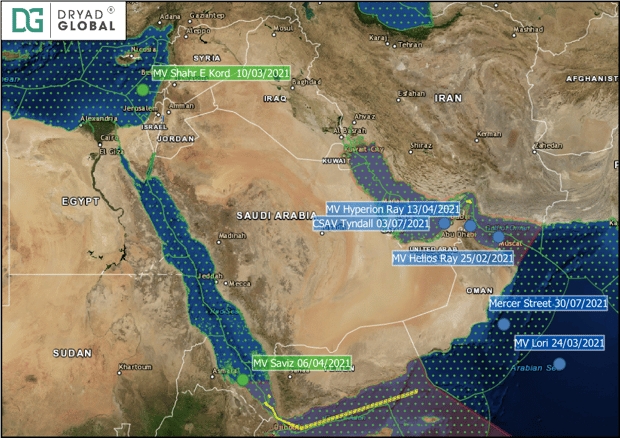 For more details and information, read the full article, source: https://channel16.dryadglobal.com